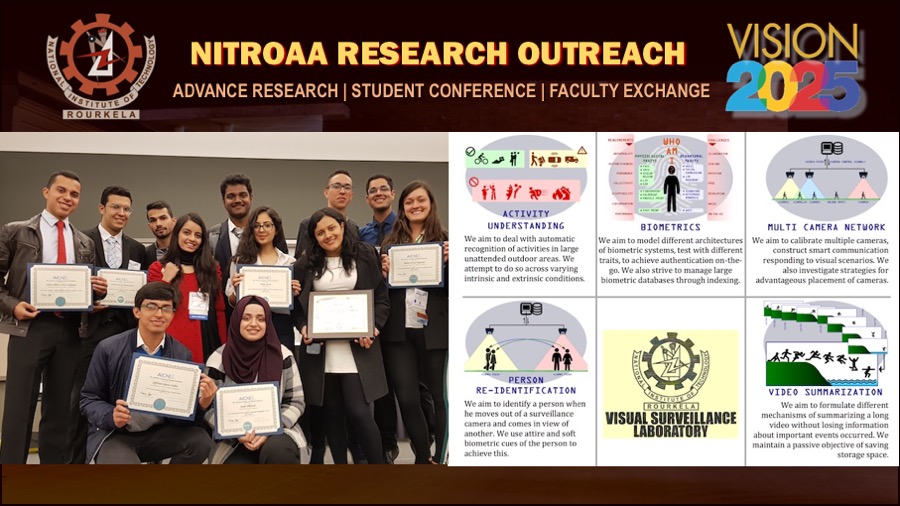 NITROAA 2019 RESEARCH OUTREACH
$10,127
of
$30,000
raised
The purpose of NITROAA Research Outreach Fund is to make immediate impact to students and research projects at NITR. The goals are meant to increase the research output (inventions, patents, papers), which is the key pillar of NITR Vision 2025. The funds will be used to support the following goals:
Support advanced research project at NITR. The Visual Surveillance Lab @ CSE Department is one of the projects chosen for 2019.
Provide financial assistantship to NITR student scholars to attend reputable international conferences, competitions and symposiums.
Support Faculty Research collaboration with US universities. Collaboration with UC-Davis is in-progress.
Visual Surveillance Research
The Visual Surveillance research group focusses on high-end image processing and computer vision tasks, specifically with applications on and around visual surveillance, which includes Automatic Activity Recognition, Biometrics modeling, Multi-Camera Network, Person Re-Identification, Video Summarization, Automatic UAV Navigation & Visual Forensics. Research is led by Prof Sambit Bakshi, and can be reached at sambitbaksi@gmail.com.
NITROAA Research Outreach Goals
2 Advanced Research Projects
4 Student Research Conference Travels
2 Faculty Research collaboration with US universities
How can you help?
Donate and support Research at NIT Rourkela
Click Social Media icons to spread the word
AC
Ashutosh Chatterji
$250.00
I am sorry for my lateness, I would like to donate this for the surveillance project