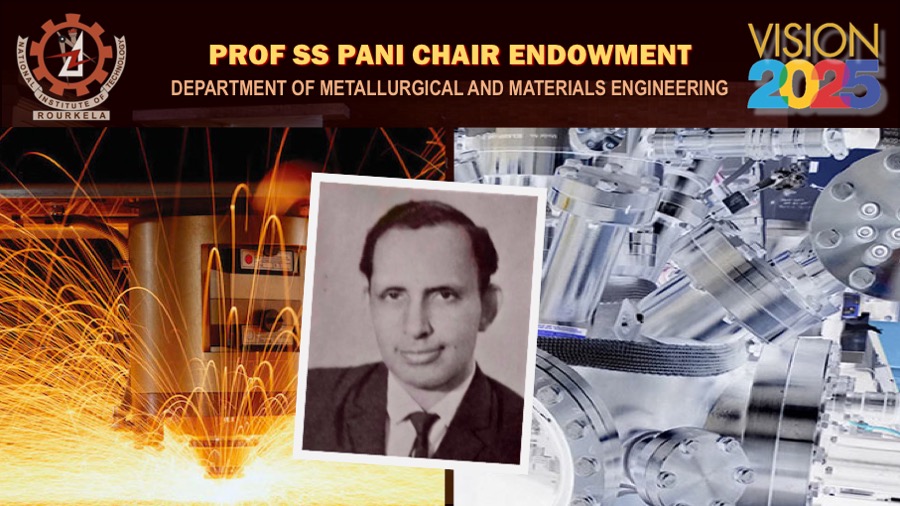 Prof Sakya Singha Pani Chair Professor Fund
Prof. Sakya Singha Pani, is the founder and first Head of Department of Metallurgical & Materials Engineering at REC (NIT) Rourkela in 1963. He was the first from Odisha to earn a Metallurgical Engineering Degree from BHU in 1948 followed by a Master's degree in 1950 from Bengal Engineering College, Shibpur. Besides teaching at NIT Rourkela, Prof Pani served many years in the Steel Manufacturing and Research with enterprises such as TISCO, Hindustan Steel Limited and Rourkela Steep Plant (SAIL). With many years of industry experience and overseas training, Prof Pani was well equipped to create a strong foundation for the department. He focussed on all-around development of students and prepared them to lead the rapid growth of ferrous and nonferrous industry in the post-independence India.
As the Department of Metallurgical and Materials Engineering celebrated Golden Jubilee, the alumni have embarked on instituting Prof. Sakya Singha Pani Chair Professor Endowment, to honor Prof Pani, a pioneer, visionary and a born leader. The position creates an opportunity to bring an outstanding academician and researcher as Chair Professor to boost advance research in the areas of metallurgical and material sciences.
Endowment Goals
Bring outstanding researcher for 3 years
Evaluate outcomes and extend or rotate
Advanced Research Center
Endowment Lecture Series
How can you help?
Join hands in this endeavor and contribute generously
Connect all Metallurgy alumni to this campaign
Click Social Media icons to spread the word