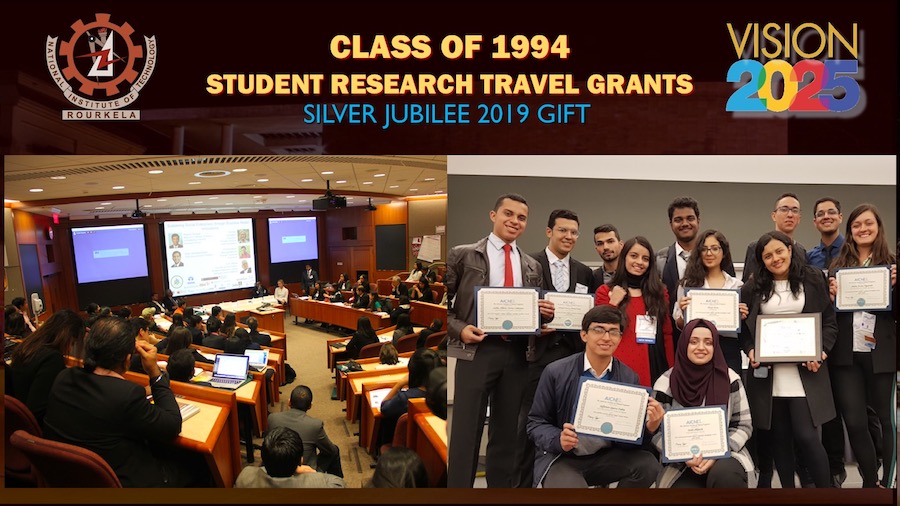 1994 BATCH STUDENT RESEARCH TRAVEL FUND
₹7.35 lakh
of
₹18 lakh
raised
As part of the Silver Jubilee celebration, the Class of 1994 is giving back by instituting two Student Research Travel Grants, one national and one international. These grants will provide financial assistantship to NITR student scholars to attend national and international conferences, competitions and symposiums.
This grant is aimed to encourage students to engage in high quality research, and produce publications in reputed peer-reviewed journals, and generate patents. Besides research output, it benefits NIT Rourkela brand value at national and international conferences and symposiums, thus impacts NIT Rourkela ranking.
The grants will be governed by NITR Student Research Travel Grant MoU.
Student Travel Grant Goals
Immediate Impact: Provide 1 international and 1 national travel grants starting 2020
Long-term Legacy: Endowment for 1 international and 1 national travel grants in perpetuity
How can you help?
Donate generously to support NITR student scholars and Research output
Click Social Media icons to spread the word
AT
Arun Kumar Tiwari
₹25,000.00
NP
Nabanita Parida
₹25,000.00
SD
Soumendra Devdas
₹25,000.00
AP
Ananta Paikaray
₹10,000.00
PM
Priyadarshi Mohapatra
₹1,00,000.00
SK
Siba Prakash Kar
₹30,000.00
NS
SM
Satyashri Mohanty
₹1,00,000.00
AB
Anjan Borthakur
₹10,000.00
RA
PM
Partha Mohapatra
₹4,00,000.00
Gratitude to NITR. Encourage student's research.