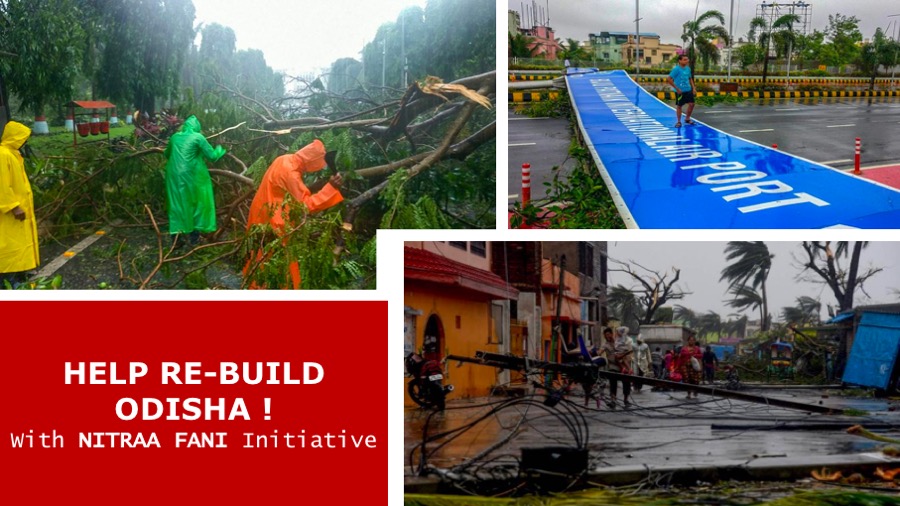 NITRAA FANI RELIEF
₹6.26 lakh
of
₹20 lakh
raised
Cyclone Fani wreaked havoc to parts of Odisha, killing more than 64 people, displacing 11 lakh people across more than 10,000 villages, and caused extensive damages to the infrastructure. Relief efforts have are on-going in war footing, but there is a long road to recovery.
NIT Rourkela Alumni Association (NITRAA), is seeking help from NIT Rourkela fraternity all over the world to join hands to provide immediate and long term relief to the affected people of Odisha. For all donations to NITRAA (80G and 12A NGO), receipts are issued by e-mail, which can be used for tax-exemptions as permitted under the law.
Donations in INR only. For donations over 10000 INR, please make multiple donations, or use Offline option.
Donations in USD are recommended thru Odisha Society of the Americas (OSA), a non-profit 501(c)(3) organization, led by NITR overseas alumni.
Join NITRAA in its initiative to rebuild Odisha:
Help projects on ground to make maximum impact
Donate to Chief Minister Relief Fund
Restore Schools & Colleges
How can you help?
Donate generously to Re-build Odisha
Share with Family & Friends
VP
KK
Karthikeyan Kasiviswanathan
₹2,537.50
SM
AP
Abhishek Pradhan
₹10,000.00
vs
SD
Sundara Ramam D B
₹5,075.00
NG
AT
AS
GG
Ganapati Sastry Ganti Mahapatruni
₹10,000.00